I know that Microsoft is bringing back the Start Menu (or some interation of it anyway) with Windows 10, and I will post some thoughts about the upcoming OS in the future, but for those of us still using Windows 8/8.1/2012/2012R2 and missing the easy accessibility to Administrative Tools you had with Windows 7 / 2008 R2 – I have a solution for you.
How things used to be:
Since I can remember (Win 2000? NT?) and until recently (Win 7/08R2), it was incredibly easy to add a menu of the Administrative Tools onto your taskbar – by using the Start Menu.
Right Click the taskbar
Select Properties
Select the Start Menu tab
Click Customize
Scroll to the bottom
Select Display on the All Programs menu and the Start menu

How to replicate this on Windows 8.1 / Server 2012 R2:
With the push to get users to "pin" applications on their taskbar, Microsoft's official solution to this would be to just add a shortcut to the Admin Tools on your taskbar. This is a crappy solution. We want a menu! To accomplish this..
Right Click the taskbar
Select Toolbars
Select New Toolbar…
Navigate to C:\ProgramData\Microsoft\Windows\Start Menu\Programs\Administrative Tools
Click Select Folder
I personally think this is a great solution, plus it's less clicks than before!
Extra tip:
You can easily add your additional Admin Tools to this list by right clicking the toolbar and selecting Open Folder.
As an example, I always keep Wireshark in my list.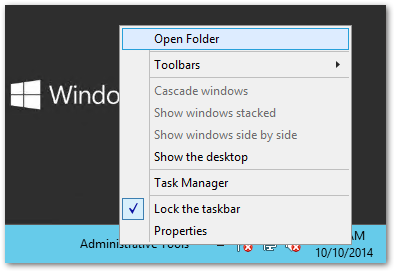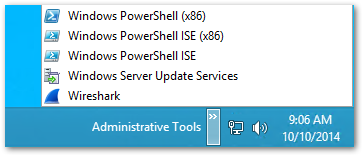 Check back for more tips!